Area One Farms prides itself on leading in responsible investing and on environmental, social and governance (ESG) factors. As a signatory to the UN Principles for Responsible Investment, our long-term growth strategy aligns with many ESG values, and our unique investment model emphasizes positive social outcomes for our Farm Partners and for their communities. As a result, Area One has received investment from some of Canada's most progressive institutional impact investors, as our equity-based model strives to enrich farmers and help them build scale. Area One is proud of its minority position of having a female Founder and CEO. This makes Area One an important player in driving gender equality.
Canada has some of the most aggressive carbon pricing regimes, readily available water, and is considered to be one of the few regions whose agriculture is predicted to benefit from the effects of climate change. In this regard, we believe that through our work of farming in Canada, we are also serving to support those regions who are more vulnerable to climate change, by way of growing food for the world.
Through land transformation, by refining our process to minimize the quantity of carbon sources, we are not only revegetating land, but also creating more productive acres to serve as food sources for the world. Canada is the fifth largest agricultural exporter in the world and with the progression of technology enabling more productive acres, we are set to continue to be an important global supplier of row crops.
Environment
Central to our principles is a genuine commitment to environmental sustainability and a commitment to reducing the agricultural industry's adverse impact to climate change.
To that end, Area One focuses on helping Farm Partners farm in the way that will help them be more drought resistant. As such, our Farm Partners employ no-till farming and regenerative practices where they are agronomically appropriate, and most of our acres are rain-fed. As is the case with farmers across the globe, our farms pull carbon from the atmosphere and store it in biomass and soil, often keeping it out of the atmosphere for extended periods of time. With our Farm Partners, we are looking at which regenerative practices can also allow for increased profitability, and we are helping to summarize that knowledge and share it with others.
In addition, Area One has formed farm partnerships with "mixed farms", which refers to growing both crops and producing beef cattle. Mixed farms have significant environmental benefits, as the manure is a key component to creating healthier soils and more sustainable farms.
Social
We care deeply about the well-being and success of our Farm Partners and the communities in which we operate. Our Farm Partners have adopted industry leading practices and standards in their operations, which in turn helps us to constantly improve our environmental and social practices over time. We work in collaboration with our Farm Partners to promote safety, responsible sourcing, and mentoring, to help both our farmers and their crops to grow happily.
We aim to fuel economic growth by providing opportunities and enriching the lives of our Farm Partners and their families, as well as their workers. To the best of our knowledge, we are the only private equity farmland investment fund that partners with farmers. In doing so, we maintain the fabric of the family-farm landscape that is prevalent across Canada. As a result, we maintain value and wealth in rural communities across the country. We work with Farm Partners to create jobs and increase wages for our employees. In poor crop years, our equity investment protects our partnerships from suffering the impacts related to high debt burdens coupled with insufficient cashflows. We help the Farm Partners maintain stability, which is critical in light of volatile weather and moving crop prices.
Governance
We employ a culture of local and ethical decision-making, and good governance combined with transparent financial communication and thought leadership on the issues affecting our partners. Our model is structured in a way that decisions are made locally by the farmer (local partner), which in our experience, and that of our ESG consultant, leads to positive environmental outcomes.
Area One welcomes farmers looking to expand, which in most cases is to achieve a scale that can support multiple of their children (the next generation) to return to the farm. By partnering with farmers, we aim promote the inclusion of young people within the industry and supply capital to facilitate these inter-generational transfers to help sustain Canada's thriving agricultural industry.
We are constantly researching ways to improve and develop farming practices together with our partners. Farmers bring generations' worth of hands-on experience and family farming traditions, which have yielded numerous advancements and innovation to agriculture and farming. We aim to share this wisdom and knowledge through our network by establishing mentorships by our more experienced farmers and partnering them up with our younger or less experienced Farm Partners.
When we form a partnership, our new partner joins our network of farmers who operate in regions across the country and who have different skill sets and expertise. We then help to facilitate knowledge exchange across our network.
The firm and its operations align with the UN Sustainable Development Goals, specifically as follows: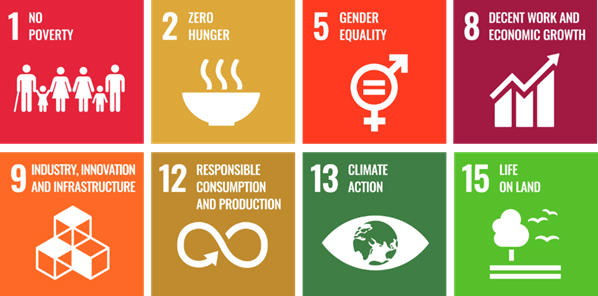 No Poverty (SDG #1) – Area One supports rural farming communities across Canada, helping to provide living wage jobs (1.2). We help to build resilience and reduce the vulnerability of farming communities to the economic shocks of climate-related extreme events (1.5). Furthermore, through our partnership model, we support the ownership and control over rural farmland to retain decision-making power and economic benefits in local communities (1.4).
Zero Hunger (SDG #2) – As primary producers, we are growing food to feed the world (2.2). In addition, we support sustainable food production systems that increase productivity and strengthen the capacity for adaptation to climate change (2.4).
Gender Equality (SDG #5) – As a women-led organization, we stand to end all forms of discrimination women and girls everywhere (5.1). Our continued support of family farm succession supports women's access to ownership and control over farmland (5.a).
Decent Work and Economic Growth (SDG #8) – By ensuring farmland interests stay in the hands of rural farming communities, we support the creation of quality living wage jobs (8.3). We ensure the protection of labor rights and promote safe and secure working environments for all farm workers (8.8).
Industry, Innovation and Infrastructure (SDG #9) – Our unique partnership model provides farmers access to preferable financial service that promotes the growth and expansion of agriculture enterprises (9.3).
Responsible Consumption and Production (SDG #12) – We support farmers who are invaluable to the sustainable management of soil and water resources across Canada (12.2). Our farm partners follow strict guidelines to ensure environmentally sound management of chemicals and all wastes to reduce their release into air, water and soil (12.4). In addition, we support technology that reduces post-harvest food losses (12.3).
Climate Action (SDG #13) – We have a focus on strengthening the resilience and adaptive capacity of farm enterprises to climate-related hazards (13.1). Furthermore, through our focus on regenerative agriculture, we seek to leverage agriculture's capacity to sequester carbon and help to reverse climate change.
Life on Land (SDG #15) – We bring degraded lands back into production, restoring land and soil resources (15.3). Through revegetating land, we increase plant biodiversity and provide additional food sources for animals in the winter. (15.5).