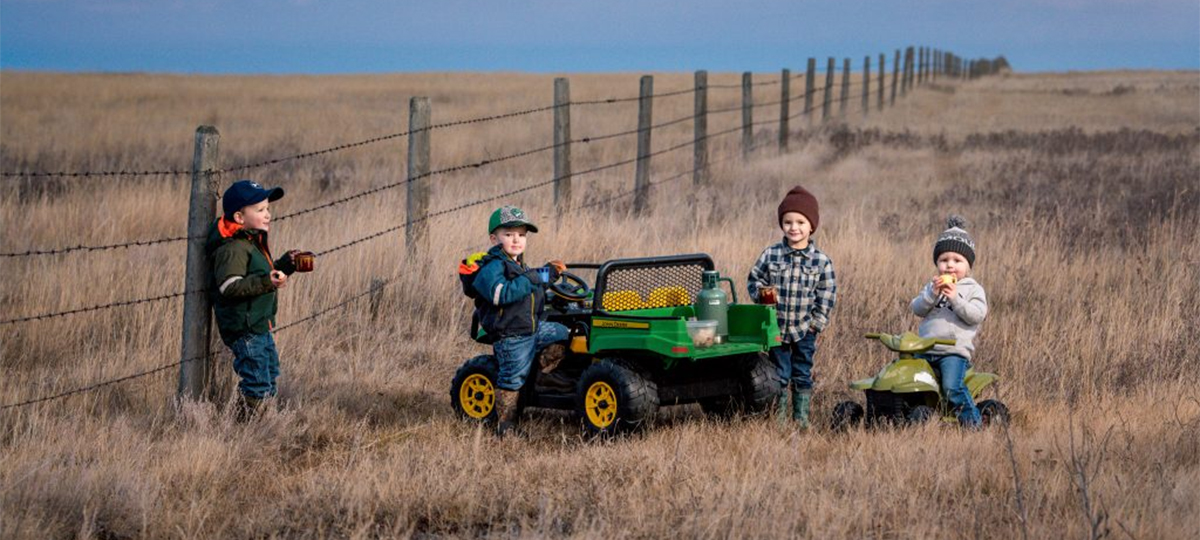 We hope that you're enjoying your web-dive into farmland investing, ESG investing, impact investing, non-correlated investments, or investments for institutions – whichever led you to us. Our firm, Area One Farms, aims to make non-correlated, impact investments into farmland in the most sustainable and highest value way: by forming equity partnerships with top-performing Canadian farmers.
Our innovative solution for investing in farms is socially responsible: it is keeping farmland stewardship and appreciation in local communities. The firm's unique approach to farmland investing is built on the principals of shared-value and is recognized as an impact investment by leading investors, foundations and endowments, as noted by McConnell Foundation here.
Area One is an industry leader in ESG. As a signatory to the UN PRI (Principals of Responsible Investing) and to the TCFD (Task Force of Climate Related Financial Disclosures), we measure and report on our ESG impact annually. Our partnership model means that we keep decision making local, which leads to better environmental outcomes. Moreover, Area One supports multiple farm families as well as their employees which betters social outcomes for the rural communities where we operate.
Designing an agriculture investment model that would appeal to farmland investors was a product of Area One's approach, but not the reason for it. The original objective was to create an investment that would greatly benefit farmers. The safe, stable, inflation-hedging, non-correlated assets and returns for investors are a product of our approach which provides such rewards that industry participants have experienced in the past.
Joelle Faulkner, Founder & CEO, understands Canadian farmers' points of view because she comes from a farm, as do the many generations before her. Drawing on her personal experiences and knowledge (including degrees in Engineering, Business, and Law from Western University, Oxford University, and Stanford University), she designed Area One's investment philosophy to suite farmers, but developed a win-win for farmers and investors alike. Consequently, the firm has gained an unprecedented reputation among Canada's agricultural industry and within rural communities across the country.
Area One has found itself to be particularly sought-after for three scenarios:
Helping the next generation of family farms. Area One provides financing for farm successions and expansions. Traditionally, the eldest son would take over the family farm, but now many farmers aim to grow so that multiple children can join. This means that a farm that was once supporting only one family may have to expand to support two, three or four families. Area One's equity solution is attractive to farmers who do not want to take on heavy debt loads as they aim to double or triple in size.
Improve land productivity. Area One provides financing for land improvement initiatives including farmland reclamation, tiling, and irrigation projects. Such mandates are typically not financed by banks as the payoff only occurs at the end – like construction projects. Area One supports these initiatives to improve the land which it owns and operates.
Helping farmers maintain scale. Area One is a desired solution for farmers who are looking to buy out their retiring landlords. Ensuring that farmers can continue to operate at their current scale, without a high debt load, is important as their machinery line is already suited to the acres that they farm. Area One supports these farm investments by providing an equity solution.
 Area One's long-term approach lends itself well to institutional investor mandates who seek stable investments, particularly investments for pension plans, investments for insurance companies, investments for foundations, and investments for endowments. Moreover, as Area One seeks to increase its impact through ESG investments, the firm continues to only invest in areas with 100% water sustainability, with farmers who are conscious about making good environmental decisions, and in a manner that supports multiple families and personnel.
We are investing in farmland and investing in agriculture businesses for the future. Area One's forward looking approach ensures that we are always innovating and adapting to the times. We are excited to continue to execute on our farm investing mission while striving to expand our reach. If you are an interested investor or farmer, please explore our website and contact us at gp@areaonefarms.ca or 416-583-5873.